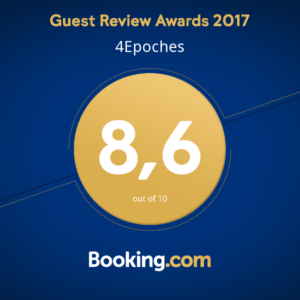 The beautiful village of Aghia Triada extends in the north side of Mount Velouhi, among the oldest firs and chestnut trees that adorn the slope. Being only 14 kilometers away from the ski resort in Karpenissi makes this village the perfect place not only for relaxation but also for some exciting activities.
The "4 Epoches" is housed at a building of traditional architecture, in the centre of the village.
The guesthouse has 8 rooms, each of which has its own unique decoration and includes one bathroom, central heating and a TV set.

The living room is one of the most comfortable places in the guesthouse containing an amazing fireplace that creates, along with the majestic view of the Velouhi Mountain, a warm and loving atmosphere.
The restaurant is independent and it is the very place where we can offer not only traditional but also unique gourmet dishes cooked by Theodora Apostolou, chef and owner of the guesthouse.
The road that connects Aghia Triada to Karpenissi meets the ski resort and therefore makes the access to it very easy.
We wish you a pleasant stay!!!